Lets Mix It Up Show
Presented by Dj Tip Top
Scheduled on:
| | | | |
| --- | --- | --- | --- |
| | | | |
| Saturday | 5:00 pm | | 6:00 pm |
| Friday | 5:00 pm | | 6:00 pm |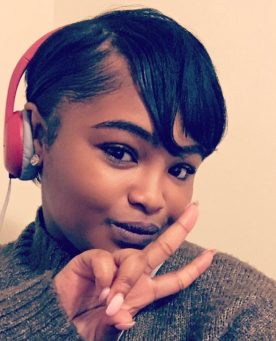 Tarin Anyae
"Hold Up, I Guess I'm Just that Chick"
At sixteen years old, Tarin Anyae is gifted beyond her years. At first glance the baby face and dimpled smile suggest a syrupy sweet sound, but instead Tarin delivers slick lyrics with an undeniable East coast accent; a symbol of her Chester, PA roots. Much like her lifetime mentor MC Lyte, Tarin's voice is the definition of femcee.
The middle child in a family of five sisters, Tarin says initially music was something that connected her with her older sister. Her fascination with hip hop resulted in Tarin knowing the latest hits before the rest of her friends. "My aunt was a DJ and she would ask for my help putting her set together so she would have all the hot songs," she laughs.
Listening to Tarin's lyrics it's no surprise that her start with music, originated with poetry. "Back in elementary school I was being bullied. I started writing because it was easier for me to express myself writing than talking. One of my teachers saw my work and had me perform it in front of the class," Tarin explains. After the response from her classmates, Tarin was hooked. She recalls feeling powerful and confident while sharing her lyrics with her classmates. She went back and attacked her writing with passion; studying emcees from the past and learning from their delivery and stage presence.
In addition to her love of music, Tarin also developed a love for dance. She took ballet, tap and jazz and later added hip hop. She picked up choreography quickly and enjoyed the feeling of interpreting the music onstage. Her love for the stage was birthed with dance; she danced in recitals, programs and even her church praise team. That love of dance and stage presence would pay off later, when Tarin began putting together a live show for her music.
It wasn't long before Tarin was a local favorite, performing to packed crowds all over Chester, PA. Her parents realized they needed to give her the opportunity to share her skills outside of PA. Tarin enrolled in an artist development program in Atlanta, GA and began honing her craft even more. "Going to Atlanta, I learned that it takes much more than writing dope lyrics to be an artist. I had to start paying attention to my diet and nutrition. I took vocal lessons, choreography, media training and started working out with a trainer," she says.
Tarin's single "TP" also known as "Tiggy Power" (her nickname) has been a crowd favorite wherever she goes. "I was in the shower when I wrote the chorus," Tarin says. "I knew I wanted to write a song that young people could party and dance to. The first line of the song says, "Hold up, I guess I'm just that chick." That was my way of saying just because I'm nice it doesn't mean you can take advantage of me. I'm still that chick."
Today Tarin is excited about her upcoming projects. In addition to her single "TP", pleasing fans with her latest single "What You Say", and displaying her versatility and talents  with various "freestyles" she regularly shares on her social media accounts called "Tiggy Tuesdays", Tarin is working on new music and looking forward to collaborating with other artists. "I want to keep writing, keep getting better. Always be original," Tarin answers when asked about her future. In addition to honing her lyrical skills she says it would be a dream to win an MTV award and one day a Grammy. "Really I just want to keep making positive music for young people. I want people to hear my lyrics and know they can do anything if they stay true to themselves." Tarin Anyae is definitely that chick!
---
Read more
---